Euroskeptic parties are in a state of high and rising disorder in the European Parliament, with leading figures departed or soon to go and corruption investigations all sapping their clout and presence. Moreover, Brexit and its resultant removal of UK MEPs from the chamber will severely dent their collective voting power.
In parliament, Europe of Freedom and Direct Democracy (EFDD) and Europe of Nations and Freedom are the two main Euroskeptic groups, with 41 and 40 MEPs respectively. They are the smallest groups by quite some margin, heavily outnumbered and outgunned by other, generally more pro-European Union blocs — the European People's Party has 214 MEPs, Progressive Alliance of Socialists and Democrats 189, European Conservatives and Reformists 73, Alliance of Liberals and Democrats for Europe 68, European United Left-Nordic Green Left 52 and Greens-European Free Alliance 51.
Brexit, due to the departure of United Kingdom Independence Party (UKIP) MEPs from the chamber, will theoretically reduce Europe of Freedom and Direct Democracy's tally by 20 — without UKIP, the EFDD would fall short of the minimum 25 MEPs required to form a group in Parliament, and may be forced to shutter.
© REUTERS / Vincent Kessler
Nigel Farage, United Kingdom Independence Party (UKIP) member and MEP waits for the start of a debate on the last European Summit at the European Parliament in Strasbourg, France, October 26, 2016.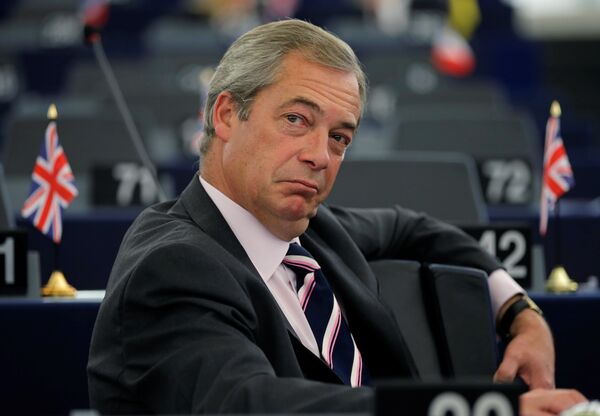 Nigel Farage, United Kingdom Independence Party (UKIP) member and MEP waits for the start of a debate on the last European Summit at the European Parliament in Strasbourg, France, October 26, 2016.
Moreover, UK MEPs overall typically have a greater anti-EU bent than their counterparts elsewhere — over 60 percent of the UK's 73 MEPs currently sit with center-right and Eurokceptic groups.
Conservative MEPS are almost exclusively Euroskeptic, the Greens are at best tepid on the project, and some Labour MEPs supported "Leave" in the June 2016 referendum.
Given the UK is the EU's third most populous member state, comprising 12.76 percent of the bloc's overall population, the country is a highly influential player in the Parliament. While it's unclear whether the UK's seats will be lost or reallocated, without the UK, the collective weight of Euroskeptic voices will undoubtedly decline significantly, whereas pro-EU voices will grow ever-louder.
VoteWatch data shows the UK's main voting allies are Sweden, Denmark and the Netherlands, countries historically regarded as an "awkward squad" in the EU, which have collectively served as a palpable block on Brussels' dreams of a federalized EU superstate — these countries almost never vote the same way as France or Germany, or other avowedly pro-EU Member States.
Without the UK, the remaining trio is left without an economically, politically and militarily influential "big brother" to support them. 
Corruption Allegations
However, it's not merely Brexit that is serving to dampen the potency of Euroskeptics in the EU.  
On September 8, Ludovic de Danne, Secretary-General of the Europe of Nations and Freedom, one of the two main anti-EU groups in Parliament, was dismissed in what he described to French media as an "inevitable divorce" due to recent corruption allegations.
France's Front Nationale is likewise under investigation over allegations of "breach of trust," "organized fraud," "forgery and use of forged documents," and "undeclared work."
The resignation of Marine Le Pen as leader of the group, and of the NF, also severely weakened both — she has now taken up a seat in the French parliament, and pledged to start a new party. Replacing her with someone of equal charisma, oratorical skill and campaigning nous may well be a challenge.
Furthermore, Euroskeptic parties have failed to make hoped-for headway in national elections in Member States. In the Netherlands for instance, Geert Wilders' anti-EU Freedom Party fell well-short of expectations.
A New Formation
One means by which Euroskeptic voices could regain their parliamentary volume would perhaps be by creating a new group — perhaps one with a slightly less harsh anti-EU tone. After all, many parties and MEPs in parliament have reservations about the EU, on a number of issues — be it corruption, environmental issues, federalism or otherwise — but do not share the nationalistic platform, or national independence aspirations, of their overtly adversarial counterparts.
Also, with increasing attempts to isolate "upstart" Member States Hungary and Poland, the Euroskeptic groups could have a wide pool of receptive parliamentarians to attract to their ranks in the near future — particularly Polish MEPs that currently sit in European Conservatives and Reformists group, the third largest in the Parliament.
Looking forward, populist parties in EU Member State elections are forecast to perform to varying degrees. Alternative for Germany party currently stands at 10 percent in most opinion polls, indicating it will win seats in the country's September election for the very first time, and in Austria the Freedom Party is polling at around 25 percent, suggesting it will be the third largest party after the October vote. Such national success may be matched subsequently with representation in the European Parliament, meaning new potential recruits to the chamber's ailing Euroskeptic groups could be on their way.